« previous: MySQL: Drop Multiple Tables From a Database | next: How to Fix Invalid Opcode Error in SpinRite »
Encodable.com: One Million Visitors Served!

Filed on
Aug 7, 2009
by
AnthonyDiSante
/ reply
Over the weekend, we passed 1,000,000 visitors. That's a million individual visitors since April of 2005, which is when VisitorLog started counting them.
A million. One meeeellion. It's kind of hard to imagine, actually. Sure, some of the big guys blow through a million visitors in hours or days. But we're not the big guys -- we're a small business, just like most of you. Small businesses unite!
Speaking of clients, I thought it'd be neat to see a map of the globe showing the cities and countries where our clients come from. (This is based on a Google Maps app that may or may not eventually turn into a product, but isn't ready for the light of day just yet anyway.) To be clear, this doesn't contain nor display any names nor street addresses -- it's just anonymized cities and countries.
These maps are showing just clients, not all visitors; that is, it's people who actually bought a copy of FileChucker, or UserBase, or MailyList, etc. And it's only from the past 6 months or so; it doesn't go all the way back to 2005 like the VisitorLog data. But I think it's a pretty neat visualization of the data in any case.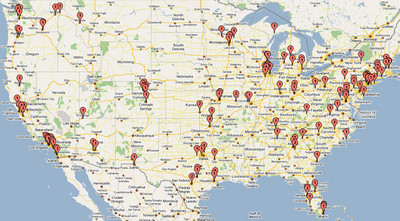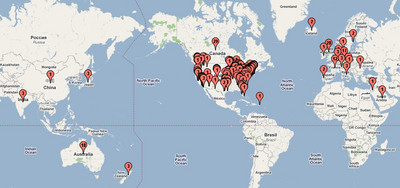 Reply to this message here: